The post How Much to Feed a Kitten by Catster HQ appeared first on Catster. Copying over entire articles infringes on copyright laws. You may not be aware of it, but all of these articles were assigned, contracted and paid for, so they aren't considered public domain. However, we appreciate that you like the article and would love it if you continued sharing just the first paragraph of an article, then linking out to the rest of the piece on Catster.com.
If you're thinking of adopting a kitten, whether three weeks old or six months old, he's going to require proper nutrition and care. Feeding grown cats can seem like a simpler task, but knowing how much to feed a kitten can be a bit more complex. Here's how much to feed a kitten:
How Much to Feed a Kitten — From Birth To Four Weeks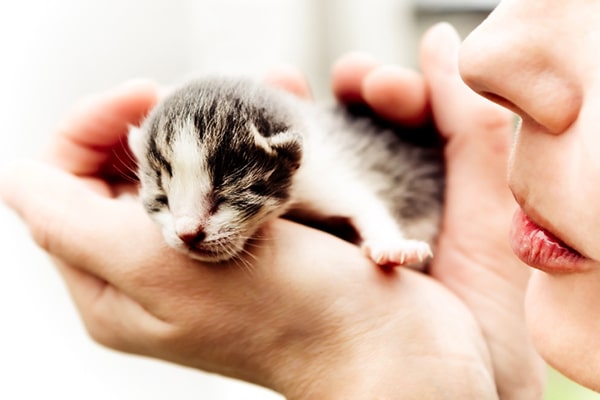 If a mama cat isn't around or won't take care of her newborn kittens, they'll have to be hand-fed. Photography by Branislav Ostojic/Thinkstock.
Mama's Milk: Hopefully a kitten is still with his mother during this time. But, even so, there can be problems. If the mother cat refuses to nurse, have the vet check her out. She could have mastitis or something making nursing painful.
Hand-Feeding: If the mother cat refuses to take care of her kittens, you'll have to bottle feed the kittens. One brand of kitten milk, KMR, can be found at major pet stores. Your vet may also have a suggestion for a formula. If at all possible, it is important for the kittens to nurse for at least the first two days.
How Much to Feed a Kitten — From Four to Eight Weeks
Weaning kittens: This is a gradual process. Give the kittens a mixture of dry kitten food (one part) mixed with cat milk replacement (three parts) or wet kitten food (one part) and milk replacement (two parts). Gradually reduce the liquid.
How much to feed a kitten — From Two Months To Three Months
Cat Food: Kittens should be feeding solely on kitten food by 10 weeks at the latest.
What to feed kittens at this time: During this time, kittens develop their food preferences which will stay with them for life. Wet food or dry food is up to you. Only in special circumstances decided by your vet should you give a kitten supplements.
How much to feed a kitten schedule at two to three months: Kittens this age should be fed at least four times a day because their stomachs are too small to contain the necessary amount of food for nutritional needs when less often. Wet food should be refrigerated between feedings and then warmed up. Dry food can be left out for kittens to free-feed. Mix a little water in the dry food if your kitten isn't drawn to it.
How Much to Feed a Kitten — From Three Months to Six Months
Routine: Kittens start to really appreciate routine during this time. Make sure your kitten food is in a quiet, safe place and don't move it around.
Thumbnail: Photography ©annadarzy | Thinkstock.