The post When Is Cat Diarrhea a Concern? by Dr. Eric Barchas appeared first on Catster. Copying over entire articles infringes on copyright laws. You may not be aware of it, but all of these articles were assigned, contracted and paid for, so they aren't considered public domain. However, we appreciate that you like the article and would love it if you continued sharing just the first paragraph of an article, then linking out to the rest of the piece on Catster.com.
One of the Catster editors recently asked me a few questions about poop. She wondered whether she needed to be concerned if her cat had a single runny poop. She also wondered whether pooping outside of the litter box might be a sign of a veterinary problem. Poop doesn't exactly make the world go 'round, but it is something that, for better or for worse, is a major part of life. So, let's talk about cat poop and cat diarrhea!
Cat diarrhea vs. normal cat poop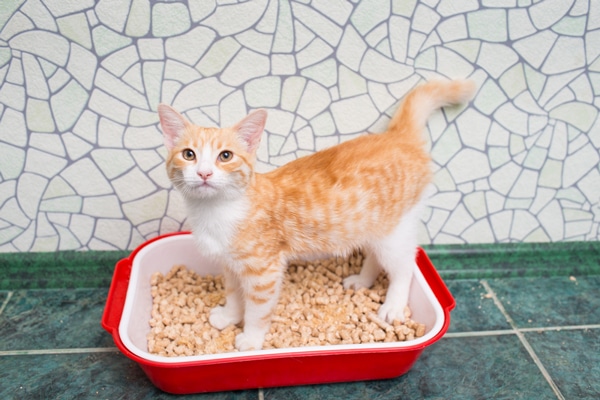 Is cat diarrhea always a cause for concern? What if your cat has diarrhea but seems fine otherwise? Photography by Tiplyashina Evgeniya / Shutterstock.
Ideally your cat produces nicely formed stools without difficulty on a daily basis. They are mostly easy to scoop out of the box, and they're comparatively innocuous in general.
Cat diarrhea comes in varying levels of severity. Abnormally soft stools can range from incompletely formed to "soft serve" to "cow patty" to liquid to hemorrhagic. Cat diarrhea, like human diarrhea, occurs when residual undigestible portions of food pass through the intestines abnormally fast, or when excess fluid is added to the stool by the large intestines.
What causes cat diarrhea?
Practically speaking, there are a number of causes of cat diarrhea. Sometimes, cat diarrhea may be a relatively minor problem such as a mild reaction to a diet change. Mild dietary indiscretion can also cause cat diarrhea. As a child I owned a cat who was lactose-intolerant; on the few occasions I tried to create a Norman Rockwell-esque scene by offering her a saucer of milk (you should never give cow's milk to a cat!), she created a very non-Rockwell-esque scene in the litter box.
Stress is another potential cause (cat diarrhea can occur if something literally scares the you-know-what out of them). And finally, more serious problems can cause cat diarrhea. These range from treatable issues like parasites and mild intestinal infections to more serious problems such as exposure to toxins, foreign objects in the intestines, liver or kidney disease, inflammatory bowel disease (also known as infiltrative bowel disease, or simply IBD), and cancers such as lymphoma or intestinal adenocarcinoma.
Thumbnail: Photography by Africa Studio / Shutterstock.
This piece was originally published in 2017.