The post Why Do Cats Purr? Cat Purrs Don't Always Mean Your Kitty is Happy by Marilyn Krieger appeared first on Catster. Copying over entire articles infringes on copyright laws. You may not be aware of it, but all of these articles were assigned, contracted and paid for, so they aren't considered public domain. However, we appreciate that you like the article and would love it if you continued sharing just the first paragraph of an article, then linking out to the rest of the piece on Catster.com.
Cats are evolutionary masterpieces of design. They have evolved in such a way that many of their characteristics, including behaviors, are multifunctional — helping to increase the odds of survival. Cat scratching marks territories, it communicates conflicted feelings and it maintains nail health. Cat whiskers feel wind directions, broadcast moods and help cats navigate. But what about cat purring? Why do cats purr and what does it mean when a cat purrs? Let's find out.
First, how do cats purr?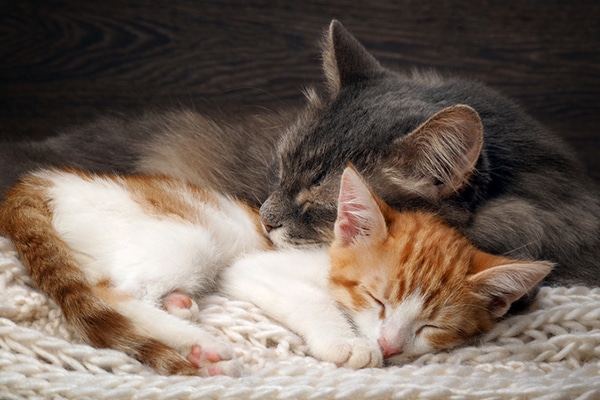 Before we discuss why cats purr, let's look at how cats purr. Photography ©kozorog | Thinkstock.
Before we answer, "Why do cats purr?" let's talk about how cats purr. There are a few theories about how cats purr. The one that stands up the strongest states that cat purrs are produced through a combination of the laryngeal and diaphragmatic muscles along with a neural oscillator. This theory makes sense, because when cats suffer from laryngeal paralysis, they cannot purr. A second theory claims that the small hyoid bone is responsible for cat purrs. The hyoid bone is located between the skull and the larynx. Another theory states that purrs initiate from the central nervous system.
So, why do cats purr? Let's look at some reasons:
1. Why do cats purr? Newborn kittens and their moms purr to stay safe
Purring is vital for the survival of newborn kittens. The little ones are welcomed into the world by the soft vibrations of their mom's purr. They are born deaf and blind, but they do feel vibrations. These sweet vibrations are perfect homing devices, guiding newborns to the protective warmth of mom's body and to their first meals.
Kittens start communicating back to mom and their siblings through purrs. They start purring when they are two days old. When kittens nurse, they cannot meow, so they show their contentment by purring. Mom purrs back comfort and safety.
There is another way primal purring ups the odds for survival. Cat purring helps keep neonates safe from predators. Hungry predators are more likely to detect cries and other vocalizations than the vibrations of purrs.
Cat moms purr when they give birth. In addition to benefitting kittens, purring helps the mothers in a number of ways. The new moms are vulnerable and cannot defend themselves when they are giving birth. Painful cries attract danger. Instead of crying, they purr. Purring releases endorphins, reducing pain while simultaneously reassuring the newborns without luring unwanted visitors.
Thumbnail: Photography ©infinityyy | Thinkstock.
This piece was originally published in 2015.